"How very Australian of you!" said everyone I told that we were going to Bali over Easter.  Even better, most of my team at work was there at the same time as we were, though not one of them had the experience that we did.  We are adventure travelers; we want to see and do as much as possible during our visit.  If that means we have to climb to the top of a volcano and snorkel a shipwreck in the same day, we will do it (and we did, more to come).
Let me start with the villa we rented.  The pictures looked amazing, too good to be true and the price was right!  My expectation upon arrival was that there would be other people staying there, maybe it would be part of a resort.  I was wrong; the only other tenants were snails, geckos and toads.  There were 8 of us traveling together and 11 people on staff taking care of us.  Putu and the staff at Kembali on the River treated us like royalty! (A girl could get used to that!)  The villa and the staff are so far beyond expectations, that I've recommend it to every single person I speak to about Bali, including the girl at the pet hotel, my coworkers, some random in the grocery store. Mind blown.
We went into Bali with an open agenda.  There was a short list of things that certain people wanted to do, but for the most part we were up for anything.  Putu, the villa manager, became our tour guide on day 1, suggesting things that we should do.  We loaded into two vans and hit the road.  First stop on Putu's Tour of Bali was the Pengumuman Temple.  We knew that we needed to cover our legs going into the temple, so Ben wore pants to avoid wearing a sarong.  He was accosted by a Balinese woman on our way in – she wrapped him in a sarong anyway.
Next up were the Ceking Rice Terraces.  I knew rice was grown like this, but I had no idea how beautiful it would be.
From the Ceking Rice Terrace, Putu took us to drink the most expensive coffee in the world; coffee that had been shit out of a cat.  The front van kept this stop as a surprise to the back van; it was a good surprise.  Poo-coffee was up there with Kona Coffee for me – AMAZING.  Did I mention that the view was beautiful?
The final stop of Day 1 on Putu's Tour of Bali was the Sacred Monkey Forest Ubud Sanctuary.  This was on our short list of things that we wanted to do and Putu made sure that it happened.
Did I mention that Carrie shook a monkey's hand?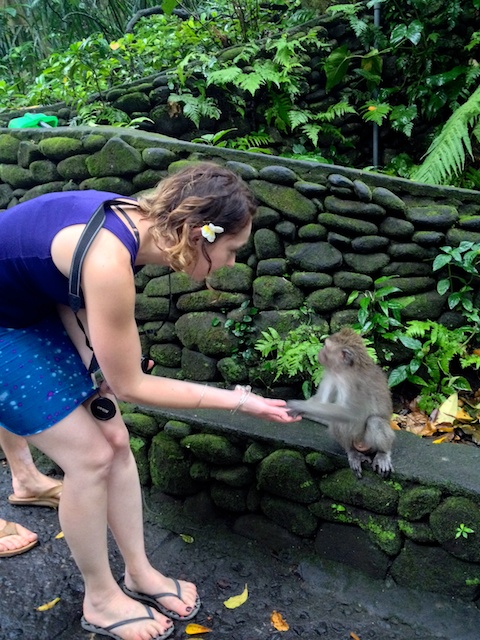 Did I mention that Shall held a monkey!?!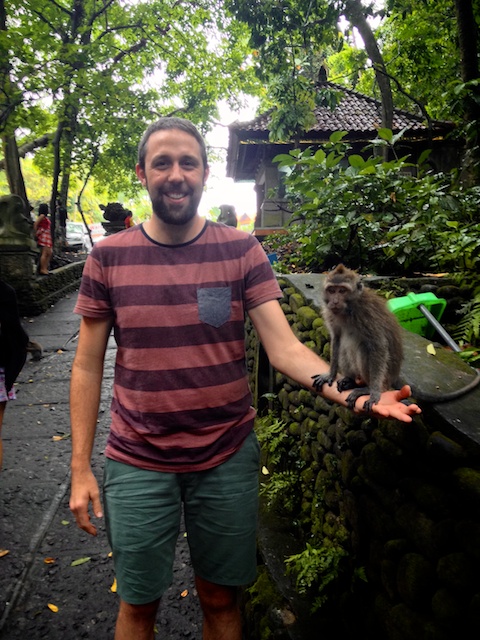 On the way back to Villa Kembali on Putu's Tour of Bali Day 1, he asked if we would be interested in climbing a volcano for sunrise.  What better way to celebrate Easter?!?  Naturally, we said, "YES!!!"  So, Putu picked us up at 2:00 AM on Easter Sunday to head for Mt. Batur.  After climbing the rocky mountain pass to the top of Mt. Batur, we watched a beautiful sunrise, ate a banana sandwich with a egg that had been hardboiled in a volcanic steam vent.  I wrote to my niece and nephews to let them know that the Easter Bunny can find Auntie wherever in the world she is!  The sunrise that morning was unbelievably beautiful; fitting for Easter Sunday.
As we were enjoying our banana sandwiches, the monkeys emerged.  I decide to share part of my sandwich with a monkey.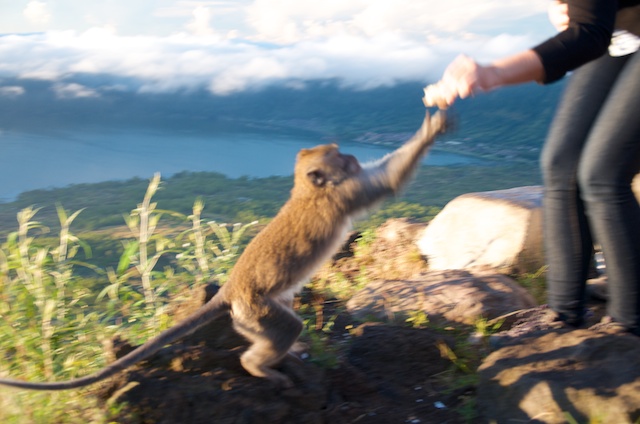 As we were driving around the Island, the view of Mt. Batur was beautiful.  All I could think was, "We climbed to the top of a volcano in Bali for Easter Sunday!"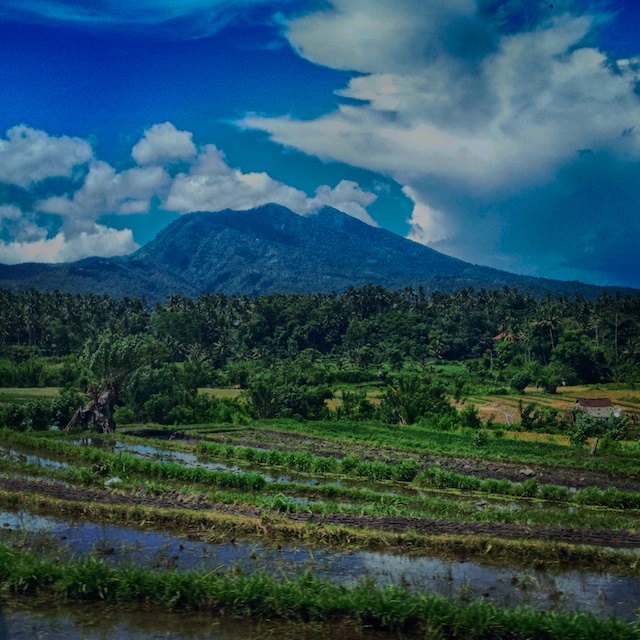 After the 2:00 AM hike to the top of Mt. Batur, we decided to snorkel the USS Liberty shipwreck site.  Our biggest mistake was looking at the map and assuming it was close.  On the map, the volcano and the snorkeling site were quite close together.  We forgot, however, to check for actual roads.  It turns out that we had to drive 4-hours around the bottom of the island to get from the volcano to the USS Liberty.  Nevertheless, we did finally get from Mt. Batur to the USS Liberty Shipwreck site.  Shall dove and the most of the rest of us snorkeled the shipwreck.  It was awesome!  I kept trying to look further into the water, dipping my snorkel under the surface and filling it with water.  That's how cool this snorkel was!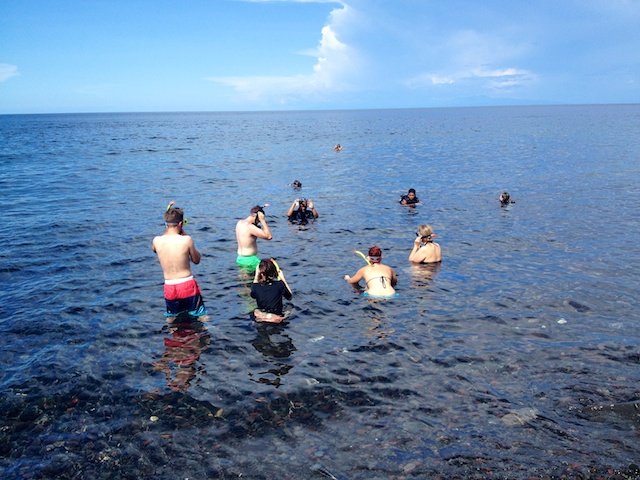 We decided that Monday should be a bit more low key, as Saturday and Sunday were full on!  We decided lay in and then shop the Ubud Art Market.  Quite near this location is where the King's wedding had taken place over the course of the weekend; naturally, we stopped by as they were tearing down.
Monday night we tried to go to the Rock Bar in Seminyak for sunset, which was kind of a bust.  The overpriced drinks were, however, amazing, as was dinner on the resort.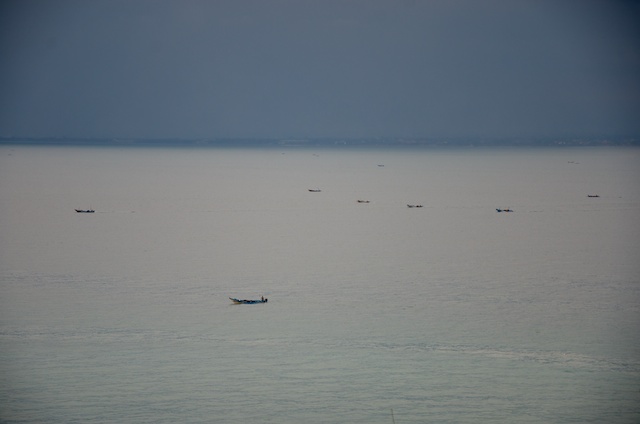 By Tuesday, we were all exhausted!  We couldn't go to Bali without seeing the beach, so we decided to spend the day relaxing.  Us girls laid in the sun and played in the surf, while the boys did some boogie boarding.  It was a dream beach day!
That evening we headed out to Tanah Lot Temple for Sunset.  Again, sunset was a bust, but the temple was beautiful!  And there was shopping to be done at Tanah Lot.  There was also a lot of very interesting history at Tanah Lot, such as the Balinese believe the temple is protected by sea serpents.
Bali was beautiful and we will definitely be back!  When we go back, we will definitely stay at Kembali on the River.  Putu said, as we were leaving, that he was already planning our next trip.